-
It is a common misconception that you will have to pay hundreds of dollars after losing your keyfob or remote! In general the dealerships are generally excessively overcharging customers to replace or duplicate proximity key remotes and transponder keys and most people don't apprehend that most remotes may be programmed employing a trivial on-board process that you can conduct in your own driveway!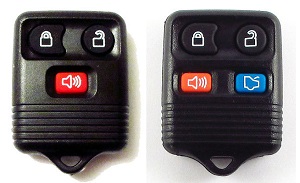 Take for instance this three/four button ford remote. The dealer might regularly charge around $80-$120 for either of these remote and a surplus charge to get it programmed.

These fobs are being sold online for less than $10 each, enclosing costless programming instructions, so you can do the programming yourself within several minutes.
Must have at least one functional key.
Must have power windows.
Lock all doors, then open your driver side door and press the unlock button on the door while it is open.
Turn the ignition switch from OFF to RUN eight times within less then 10 seconds, when the 8th time ending in ON position. The door locks will cycle to indicate that you are in programming mode.
Within less then eight seconds press one of the button on the 1st remote. Door lock will cycle to indicate it's programming.
Within 8 seconds, repeat the 3rd stage for each supplemental remote (up to 4 remotes).
Turn ignition to OFF. All the locks will again cycle to indicate cycle to end of programming mode.
Turn on ignition 5 times.
Explorer 1995-1997
F350 1999-2000
Ranger 1995-1997
Taurus 1996-1997
F250 1997
F150 1997
Expedition 1997
Turn on ignition 4 times.
Instead of turning the ignition, close and open drivers door and press power unlock button in door.
Instead of turning the ignition, unlock the doors with power unlock button in door, but don't press the break padel.
Related articles/services