- The Kwikset Smart Lock Conversion Kit is now a part of the Z-Wave security game. Kwikset, with the goal of making more efficient smart locks available to homeowners, has now launched a new smart lock technology. Using the Z-Wave technology, Smart Lock Conversion Kit can now transform mechanical locks into smart, electronic locks. No doubt, this system presents a better option for anyone looking to install a smart lock without bothering to change the exterior look of their front door.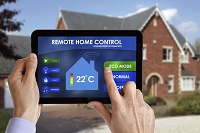 With this technology, users of the Smart Lock Conversion Kit need not to change the design of their door to enjoy the benefits and security of a keyless lock. Instead, they only need to replace the interior side of the lock while the exterior side remains the same. This technology is not only for the front doors alone, it can be applied to other doors within the house you need to keep secured.


How does it work?
The Z-Wave technology that enables this new security option is not a new system in the home security industry. Kwikset only adopted the technology to create innovation aims at revolutionizing the real estate industry. It is cost-effective since users will retain their buildings original external door locks. The technology works remotely in as much as users are connected to Wi-Fi. Homeowners can lock or unlock their door from anywhere, thereby determine who gain access to their house even while away. This explains why Z-Wave technology has been a viable option for vacation home owners or people who are always on the road.

"Kwikset Convert will appeal to owners of both condominiums and vacation properties whose homeowners associations require all exterior locks to be uniform in appearance," says the Division Vice President of Kwikset, Keith Brandon. "It will also be ideal for renters who aren't allowed to change out their current locks," he added.
How it looks
The Kwitset Conversion kits are more appealing to most homeowners, especially vacation and condominium property owners, because they do not require complete replacement. Just by altering the interior side of the lock alone, users can start to enjoy completely different features from what they used to get from the original lock. Meanwhile, users have the opportunity to personalize their Kwikset Smart Lock's exterior into any of Brass, Venetian Bronze, or Satin Nickel. It should be noted that the Kwikset system may be compatible with a wide-variety of locks; it actually doesn't work with every brand. The common lock brands that are compatible with the system are locks made by Kwikset, Baldwin, Weiser, and Schlage.
Conclusion
The Kwikset Convert Smart Lock Conversion Kit costs $120-$150, which is a fair price compared to other brands in the same league. However, despite offering a number of solutions, the Kwikset system had a few limitations that its competitions do not have. In case you need a very similar brand without the kind of limitations you would find with Kwikset, we will recommend the August Smart Lock. Contact Protect America today for a professional guide on how you can make the right decision concerning the security of your home.


References
Related articles/services