-
A
keyless entry
device is a small pocket size Proximity key which has the ability to interact with your car without a physical use of the key. It functions through the transmission of the radio wave with your car, which enables you to lock and unlock the doors, as well as starting the car's engine automatically.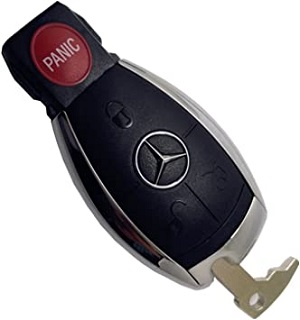 Mercedes-Benz was the pioneer founders of this system as far back as 1998. Different unique standards have been used to describe the proximity key. Indicated below are some of the common names used to describe the proximity key among various manufactures:




The proximity key is using radio pulse chip to communicate with the car computer and making use of it actually allows the driver the privilege of keeping the key fob in his/her pocket or in a purse while locking, unlocking or even when starting the car.

As a means of extra precautions, a mechanical key back up is usually provided with the keyless entry device in the form of a spare key blade in most cases concealed behind or inside a cover plate. In most cases your proximity key has an emergency key blade which can be used to lock, unlock or start your car, the essence of this emergency unit attached to the remote is to grant you access to your car on the off chance that your smart key battery ends up plainly exhausted. However, some cars have been modified in a way that they can be started mainly with the use of a transponder chip placed inside the proximity key. In order to detect the transponder key, the key must be held in the designated areas which make the transponder detectable.


The advantage of driving a vehicle utilizing the smart key system is that you can start up the engine without the need of inserting a key into the ignition as long as the key is inside in the car. Most of the cars manufactured today have modernized the system and all you need do is to push a starter button or push the ignition switch.

If you are in need of a proximity key, Okey DoKey Locksmith is here for you. We specialize in cutting and programming new proximity keys for most car manufacturers models and years. Give us a call so we can assist you in creating a spare key or restoring a lost one onsite eliminating the towing of your vehicle to the dealer.


Related articles/services