-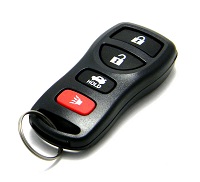 The car remote (many people mistakenly call it key fob) is one of those features that once a driver get to use he will wonder how he went all this time without it. A Nissan remote is a convenience feature used to unlock/lock the doors, pop the trunk, activate the car alarm by simply clicking a button to send a request to your Nissan's computer which in turn push the request to the trunk or door handle. Many times after replacing a battery in the remote or maybe after purchasing a new one, the remote needs to be reprogrammed or programmed to sync in with the specific vehicle. Nissan employ an on-board interface to reprogram your key fob by yourself and the process is the same for all Nissan models. Check out the walk through below to help get your remote and car quickly reconnected. Note: At any point, if your Nissan remote fob needs to be reprogrammed, Okey DoKey Locksmith has your back! The programming procedure is the same for all Nissan years and models, whether you drive an Pathfinder, Juke, Altima, Rogue or Titan. To get your remote quickly reconnected to the vehicle, have a functional key in hand and check out the following procedure:
Buy all the remotes that you wish to reprogram (find some good deals online).
Get into the driver's seat and using the driver's side power lock switch, lock all doors.
To enter reprogramming mode, insert and remove the functional key into the ignition at least 6 times in 10 seconds (without turning it) leaving about 1 second between each key placement and removal, until hazards lights flashes.
After hazards lights blink twice, insert and turn the key to ACC or Accessories Mode.
Within 5 seconds of completing step 4, push the new remote "Lock" button once. The hazards light will flash again to signal the completion of the reprogramming cycle.
Repeat steps 2 to 5 for each additional remote to program.
Turn the key to the Off position and remove it from the ignition.
Need Nissan Key Fob Assistance? Okey DoKey Locksmith Can Help
We hope this guide successfully helped in the reprogramming of your Nissan remote. If the process above didn't work for your Nissan model, Okey DoKey Locksmith Nissan's experts can help. We can help you save lots of time and frustration don't hesitate to get in touch with us. Our tech can be with you ASAP and get you remote programmed or even make you a new duplicate transponder key and remote.


References
Related articles/services