-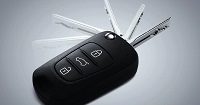 FlipKey, otherwise called switch-blade key, refers to the kind of vehicle keys that permit its metal key-blade to fold into a plastic key fob if not in use so as to save space and create convenience. There is no doubt that FlipKeys are fast becoming trendy as modern cars get more technologically advanced. Today, vehicle manufacturers include flip keys as standard or optional accessories due to their efficiency and compact design. The good thing is that old transponder keys in earlier cars can be replaced with the fancier FlipKeys.
Upgrading of FlipKeys
If your car comes with the old transponder key and you're looking to upgrade to a FlipKey, it is very much achievable. In fact, the process is simple. All you need to do is to purchase the correct blank FlipKey with respect to your car maker, model and year.
Where to Buy FlipKeys?
FlipKeys can be bought on the world-wide-web from platform such as online. However, if you're looking to upgrade your old transponder key, you can contact local car locksmiths or hardware stores online to help you cut the shaft of the key and switch the internal parts of the transponder key into the new FlipKey shell.