-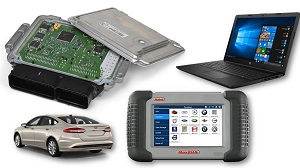 For many owners of older Toyota and Lexus losing the last key might be very confusing. With the right information on how to reflash your ECU you can eliminate the outrageous bill for a dealer replacement key.
An ECU (engine control unit) is a computer inside a vehicle. Using information from various car safety or comfort features sensors, the engine control module unit (ECU) controls that car's components.


Reflash, turing or remap of the ECU have the same meaning. ECU reflashing means programmably erase the old configuration and data and reinstall new operating system in the ECU. The process of reflashing the ECU entails the removal of the read-only program and uploading of brand new map information instead.


Some car producers requires the ECU to be changed or reflashed in the situation of owner lose all transponder keys to the vehicle. Toyota and Lexus models manufactured in the latter part of the 90s and early 2000s are the vehicles that fall into this category.


1998-2004 Toyota 4Runner
1998-2004 Toyota Avalon
1998-2004 Toyota Camry
2001-2003 Toyota Highlander
1998-2004 Toyota Landcruiser
2000-2004 Toyota MR2 Spyder
2001-2003 Toyota Prius
2001-2004 Toyota Rav4
1999-2004 Toyota Sienna
2003-2007 Toyota Sequoia
1998-2004 Toyota Solara
1998-2004 Lexus ES300
1998-2004 Lexus GS300
1998-2004 Lexus GS400
2001-2004 Lexus IS300
1997-2004 Lexus LS400
1998-2004 Lexus LX470
1999-2004 Lexus RX300
1998-2004 Lexus SC300
1998-2004 Lexus SX400
2002-2014 Lexus SC430
1995-2005 Acura NSX
1996-2004 Acura RL
1997-2002 Honda Prelude
ECU reflash is a service done by very few technicians and cost around $250-$400.


Our brand is capable of reflashing your Engine Control Unit to include keys. As a reliable automotive locksmith whose area of expertise is in immobilizer programming. We can save your money comparing to the more expensive choice when you do it at the car dealer's shop.
We are always available for your automotive locksmith details. We have a team of professional technicians who are well-versed with the most recent changes in the auto industry. If you are scanning for a Car ECU/ECM reflash service, call (844)653-6539 our emergency auto locksmith can reset your vehicle computer and cut & programm a new ignition key in Houston Texas.


References
Related articles/services